As more and more research is done, hard evidence is available that supports the therapeutic use of essential oils. We at Pain Revealed especially take notice of research that shows clinically significant benefits for patients that deal with pain. While we are focusing today on cancer patients, the data offered here translates to anyone with a pain condition who is interested in pursuing non-drug options.
An important review of research into the benefits of essential oils for cancer patients was conducted by Jyothirmai Gubili, MS, Melissa Emerzian, MSN, AGPCNP-BC, CBCN, and Wendy Miner, LMT.
The news is promising: "A retrospective study of nurse-delivered aromatherapy, involving 10,262 patients in an acute care setting, found clinically significant improvements in patient-reported pain, anxiety, and nausea following use of essential oils." [1]
The study pointed to sweet marjoram as the top effective oil for the alleviation of pain. A combination of lavender and sweet marjoram came out at the top for the relief of anxiety, and ginger was the winner against nausea.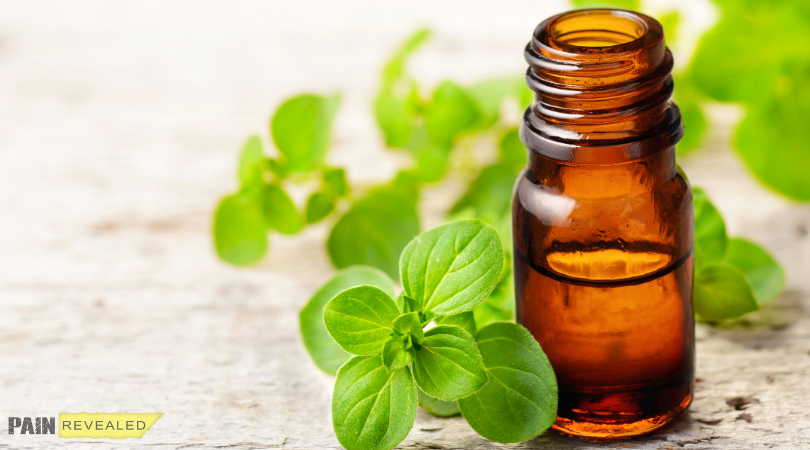 In addition to helping to reduce anxiety and nausea, oils were shown to improve sleep. Sleep is a great concern to all pain patients, and sound sleep helps the body to put energy towards healing in addition to improving pain tolerance during waking hours.
Hospice patients experienced a reduction of pain and depression when given massages with a combination of bergamot, lavender, and frankincense. Additionally, these patients benefitted from lavender for sleep.
The reviewers considered the issue of the safety of essential oils as well. While generally safe and well-tolerated in inhalation, some oils can cause an allergic response in contact with the skin. Oils mentioned as problematic include lemongrass, lavender, bergamot, ylang-ylang, and others
Additionally, because lavender and tea tree oil contain phytoestrogens, it was stressed that they should not be ingested by patients with hormone-sensitive cancers. Similarly, repeated usage in any form of these oils is not recommended in boys who may react negatively to the phytoestrogens.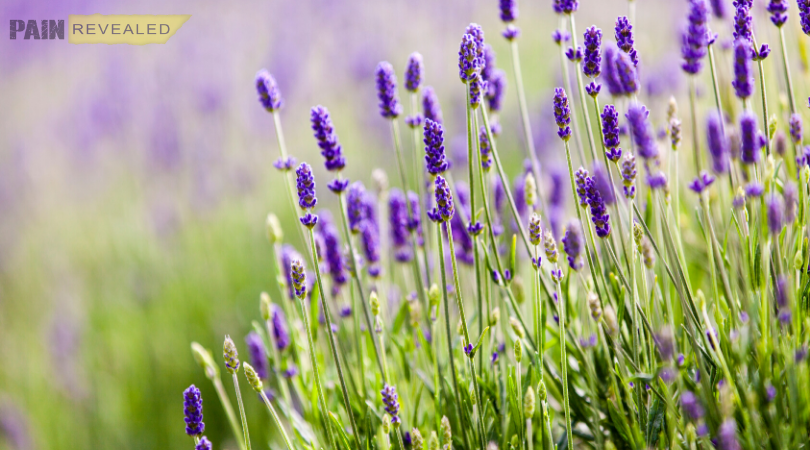 One reviewer pointed out that nurses working in oncology are frequently asked about alternative and complementary treatments by their patients. Patients are becoming more and more aware of their options, and seek input from their caregivers about essential oils and other natural options.
The reviewers conclude that "Current evidence indicates benefits of aromatherapy for managing pain, poor sleep, nausea, and psychological distress, with high levels of patient preference and compliance."
They call for further research to identify and quantify the most effective treatments and modalities.
It is noteworthy that sweet marjoram came out on top in the reduction of pain. This oil is described as having a medium-strength herbaceous, warm, spicy aroma. [2] In general usage, it is popular in sleep-promoting blends.
This oil may be safely used in a number of ways: diffuser, aroma inhaler, or topically in a carrier oil such as coconut, almond, or jojoba. It can also be mixed with a carrier oil and used in a bath, foot soak, or massage.
Patients using sweet marjoram report success in treating leg cramps and other muscle cramps. Many diffuse it in the evening for sleep, while others mention a calming effect. [3]
For arthritis pain, sweet marjoram in a carrier oil can be massaged directly into joints. Similarly, it may be massaged topically into any area where there is inflammation to produce relief. For sore muscles, it may be used as a massage or in a bath. [4]
Consumers should purchase oils from a trusted source that engages in rigorous quality control of all products. Often, quality control results (referred to as GC/MS testing) by batch are available at company websites. This testing is considered more reliable if done by a third party.
It is exciting to see the research that supports the use of essential oils and helps patients to make informed choices about which oils are most effective, and how they should be used. Pain patients should consider essentials oils as a complement to other therapies and an effective way to reduce the usage of potentially dangerous or addictive pharmaceuticals.